Now Over 11 Years Old, Best Blue Route in the USA!




NY Route 30: The Adirondack Trail




NYRoute30.com: TheAdirondackTrail.com


The Original and Flagship Site of NYRoutes.com from October 2002
From the New York State Thruway, I-90 to Quebec, Canada
---
Saranac Lake Chain District, Lake Clear Junction

from Junction NY 3 to Junction NY 86
---
Town North: Paul Smiths to Malone | Town South: Tupper Lake | Town East: Saranac Lake
Upper Saranac Lake Topo Map | Ampersand Mountain Topographic Map | Tupper & Saranac Lake 1985 USGS Quad w/Upper Lakes

---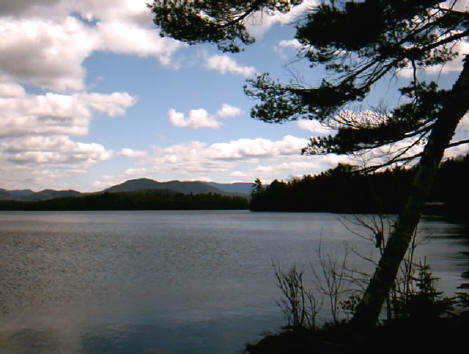 Upper Saranac Lake
Northbound through the village of Tupper Lake, NY 30 north will pick up NY Route 3 and they'll go together for 6 miles eastbound. NY 30 will turn north at the junction in Wawbeek and if you go straight on NY Route 3, Saranac Lake and Lake Placid are close by. NY Route 3 to Saranac Lake and Placid is a mountain speedway, so watch out! Turn left on NY 30 and now you are in the Saranac Lake District starting with Wawbeek and the old Wawbeek Plantation. There are hundreds of private camps and cabins and a few state campgrounds, as well as some really nice rustic resorts. You will go by various lakes in the Saranac Lake chain. This is prime canoeing country, especially along the St. Regis Flow. There are plenty of boat launches, fishing spots and swimming. Before Lake Clear, you'll come to the 35 mph zone in Fish Creek, which has two state campgrounds plus innumerable small camps. During the winter, it's all but empty, but in summer it is crowded with cars and hikers so be cautious. Being near the railroad meant this district had a lot of vacationers for the last hundred years. The only major year-round settlement is Lake Clear & Lake Clear Junction, with a 40 mph zone. Before Lake Clear, you'll pass by the State Fish Hatcheries, an interesting place to visit. The rail line is also the main snowmobile trail so this is a popular sledders destination in season. At Lake Clear Junction, named for the railroad junction of the Adirondack RR and a defunct line to Malone, North bound drivers turn left at the junction to stay on 30, if you go straight, you'll be on NY 186 East and you'll end up in Saranac Lake Village.



Useful Links:

---

Tupper Lake Chamber of Commerce Website | Franklin County Tourism Website

Watch out on this stretch of NY 30! It is very curvy and populated in season. This is the slowest stretch of our NY 30, but there are still a few passing zones. There are 20, 25 & 30 mph bends in the road all through it until about 5 miles south of jct. NY 186, where it is straight all the way through Lake Clear to Lake Clear Junction . Basically, the route goes where between all the small lakes. Watch in the snow, the winds blow fierce off the lakes, with lots of drifting snow all over! If you see a road hazard sign for icy pavement ahead with two red flags on top, heed it!In spite of the slow areas, it is my favorite stretch and one of the prettiest. If you like water, this is the best part. The road is low and the ground is all marshy from the lakes. Also there are a lot of pedestrians and bicyclist in summer. Drive extra carefully around state campground entrances; be especially careful in the Fish Creek 35 mph zone. Routing and mapping websites seem to hate my old 30 because of this stretch. For example, they would have you go from Tupper to Malone via Potsdam using NY 3 to NY 56 instead.
---
Participating Establishments
12945 Zip Code
518 Area Code

---

Nichols Insurance Agency

Home, Auto, Personal, Business
good personal service
44 Park St., NY 30, Tupper Lake, 12986
359-9779 fax: 359-2526, E-mail

---

---

Red Fox Restaurant

"One of the Area's Finest"
Specializing in:
Prime Rib, Fresh Seafood & Steaks
NY 3, 1 mile west of Saranac Village, Saranac Lake
Phone: 891-2127